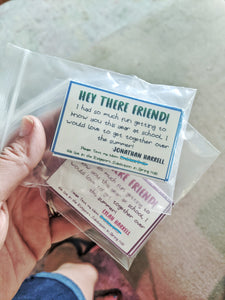 Little keep in touch cards for your kids to give out at the end of the school year. I can either format a jpeg for printing or mail you the actual cards. Please specify the following: 
☑️Childs name 
☑️Weather you'd like pink or blue/green 
☑️If you'd like a name for the parent and phone number and if it mom or dad 
☑️If you'd like your neighborhood or street name (we live off of... Or we live in... Or we are moving to...) 
❤️Please include your email if ordering the digital version. 
If you have any questions you can message me on Instagram @whimsybeardesign or Facebook @caryncoblioharrell ❤️❤️❤️